Beyond its direct health implications, the COVID-19 (coronavirus) pandemic is causing massive disruption to organizations large and small worldwide. We at the Economic Development Council for Island County (EDCIC) take seriously the economic hardships faced by Island County businesses. We've compiled the following list of resources to stay on top of the latest developments as it pertains both to well-being of your employees and the operations of your business. This list of resources is being continuously updated.
The Small Business Administration (SBA) developed a summary of Coronavirus relief options and the criteria that must be met when considering different funding options.
Shuttered Venue Operators Grant Program
The application portal reopened on April 26.
Use the checklist to make sure you have everything you need to complete your application:
Keep the checklist, user guide, and frequently asked questions open throughout the application process.
Begin the application process on the SVOG portal. Every user will be temporarily placed in a virtual waiting room and will be able to start their application in the order in which they arrived.
For technical assistance such as a password reset, browser suggestions, or how to use the multi-factor authentication with an app and the QR code, applicants can call 1-800-659-2955 (1-800-877-8339 for the deaf and hard-of-hearing) and follow the prompts to SVOG assistance. The call center is now open 24 hours a day, 7 days a week.
Learn more about the program: https://www.sba.gov/svogrant
SBA Announces Official Restaurant Revitalization Fund Application and Guidelines 
SBA Administrator Isabella Casillas Guzman announced key details on application requirements, eligibility, and a program guide for the Restaurant Revitalization Fund (RFF). The restaurant industry has been among the hardest-hit sectors during the economic downturn caused by the COVID-19 pandemic. To help bring jobs back and revive the industry, the American Rescue Plan, signed into law by President Joe Biden, established the $28.6 billion Restaurant Revitalization Fund at the U.S. Small Business Administration (SBA). The SBA will administer the funds to the hardest-hit small restaurants.
Who can apply
Eligible entities who have experienced pandemic-related revenue loss include:
Restaurants
Food stands, food trucks, food carts
Caterers
Bars, saloons, lounges, taverns
Snack and nonalcoholic beverage bars
Bakeries (onsite sales to the public comprise at least 33% of gross receipts)
Brewpubs, tasting rooms, taprooms (onsite sales to the public comprise at least 33% of gross receipts)
Breweries and/or microbreweries (onsite sales to the public comprise at least 33% of gross receipts)
Wineries and distilleries (onsite sales to the public comprise at least 33% of gross receipts)
Inns (onsite sales of food and beverage to the public comprise at least 33% of gross receipts)
Licensed facilities or premises of a beverage alcohol producer where the public may taste, sample, or purchase products
Get the program details.
Get the program details such as eligibility, funding amount, allowable use of funds and more. If you haven't already, sign up for RRF email updates.
All info about RRF
Info in Spanish at www.sba.gov/restaurantes
How to prepare
Currently, SBA is not accepting applications for RRF. However, you can prepare your application by reviewing the sample application, program guide and cross-program eligibility chart on SBA COVID-19 relief options. You will be able to apply through SBA-recognized Point of Sale Restaurant Partners or directly via SBA in a forthcoming online application portal. Registration with SAM.gov is not required. DUNS or CAGE identifiers are also not required.
Prepare now
WSDA Grant Announcement - Application Portal
Opens April 9
The Washington State Department of Agriculture (WSDA) is offering grants to small agriculture-related businesses in sectors that have suffered economically due to the coronavirus pandemic, but have been left out of earlier relief programs.
The WSDA Relief and Recovery grants, funded through a partnership with the Washington State Department of Commerce (Commerce), are intended to assist small businesses in four agriculture sectors, which include:
Shellfish growers
Farmers market organizations
Agritourism farms
Small breweries, cideries, wineries, and distilleries that depend on tap and tasting room sales
The WSDA grants are a way to bolster the health and diversity of the entire state economy by supporting disproportionately affected and previously underserved agricultural sectors. These four sectors were selected because they did not qualify for other small business and agriculture COVID-19 relief programs.
The application period for the WSDA grants will be open for two weeks, beginning Friday, April 9. Visit agr.wa.gov/grants to learn more about each of the grants and whether your business qualifies.
"The COVID-19 pandemic has created economic hardships for many businesses, including many in the food and agriculture industry. Our goal with this grant program is to find a way to help some of these businesses that have had difficulty accessing assistance for their particular operations," WSDA Director Derek Sandison said. "We truly appreciate the state's allocation of funding for this effort and our partnership with the Washington State Department of Commerce that has made this possible."
"Commerce is very appreciative of the opportunity to partner with WSDA to support these hard-hit sectors," said Commerce Director Lisa Brown. "These businesses contribute significantly to our economy, and they also contribute to the cultural vibrancy of our local communities and state."
Businesses who do not qualify for the WSDA grants can visit www.commercegrants.com for information on other assistance available to Washington businesses.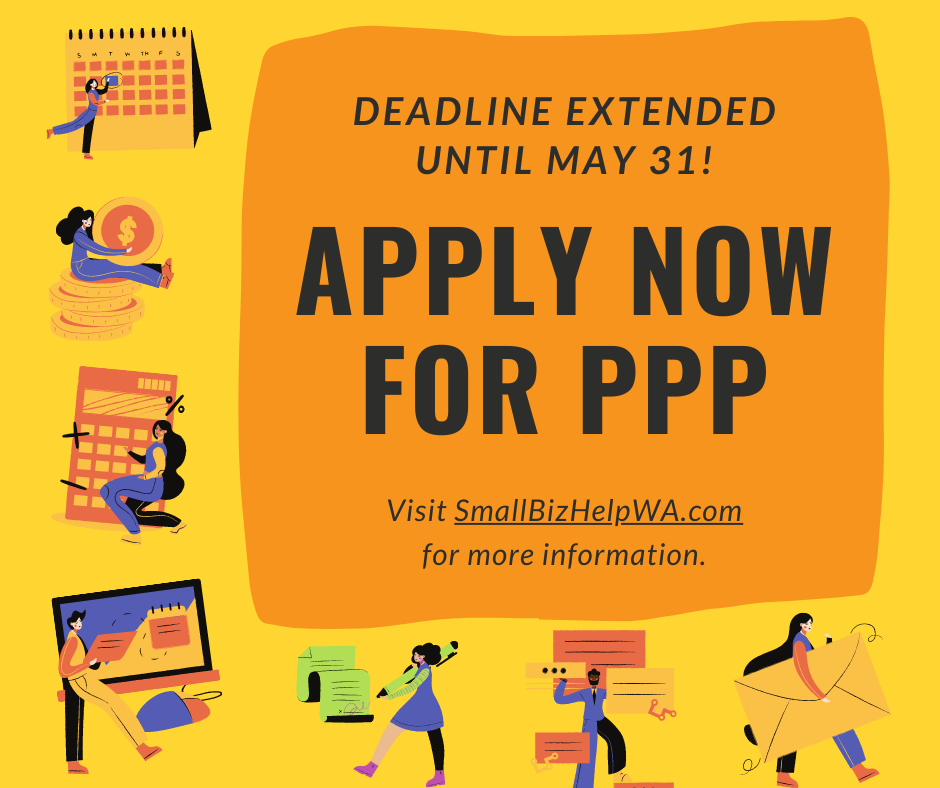 PPP Application Deadline Extended!
SBA is currently offering PPP loans until May 31, 2021. President Biden announced program changes to make access to PPP loans more equitable.
1. Find a lender:
2. Identify a loan:
First Draw PPP loans: If you have not received a PPP loan before, First Draw PPP loans are available to you.
Second Draw PPP loans: If you have previously received a PPP loan, certain businesses are eligible for a Second Draw PPP loan.
Paycheck Protection Program (PPP) forgiveness applications still being accepted
A borrower can apply for forgiveness once all loan proceeds for which the borrower is requesting forgiveness have been used. Borrowers can apply for forgiveness any time up to the maturity date of the loan. If borrowers do not apply for forgiveness within 10 months after the last day of the covered period, then PPP loan payments are no longer deferred, and borrowers will begin making loan payments to their PPP lender.
Read the SBA's Frequently Asked Questions for more info.
With the extension of the Paycheck Protection Program (PPP) forgivable loan program through 5/31/21 (or until funds run out) we have more time to spread the word! Changes were made to the PPP to better support self-employed business owners and "solo"preneurs. Check out www.SmallBizHelpWA.com to find no-cost technical assistance in multiple languages and a lender if you need one.
Unemployment Insurance
The federal CARES Act expands unemployment benefits to people affected by COVID-19. If you are not eligible for regular unemployment, learn more about Pandemic Unemployment Assistance here:
On Dec. 27, 2020, the federal stimulus that changes and extends CARES Act unemployment benefits was signed into law.
Visit the COVID-19 page for the latest info.
COVID-19 Resources for Businesses, Employees
Loans
Small Business Administration: Disaster loan assistance Link
Small Business Administration: Lender Match helps you find lenders Link
State Department of Financial Institutions: Financial resources for Washington residents impacted by COVID-19 Link
Paycheck Protection Program: An SBA loan helping businesses keep their workforce employed Link
Business Assistance
Association of Washington Businesses: COVID-19 Employer Resources Webinar Series Link
Employment Security Department: For businesses affect by COVID-19 Link
FEMA: Starter kit for reconstituting operations Link
Island County: Latest novel coronavirus outbreak information link
Small Business Administration: Export assistance Link
Small Business Administration: Guide to the CARES Act Link
Small Business Development Center: Business survival strategies Link
Spokane Regional Health District: Cleaning for health in a business Link
State Department of Commerce: Export assistance Link
State Department of Commerce: Small business crisis planner Link
State Department of Commerce: Insurance for businesses, events Link
State Employment Security Department: Layoff assistance Link
State Department of Labor & Industries: Request a safety and health consultation Link
Washington Governor: Essential Critical Infrastructure Workers Link
Washington Governor: COVID-19 Reopening Guidance for Businesses and Workers Link
Workers
Employment Security Department: For workers affected by COVID-19 Link
Employment Security Department: Eligibility Checker Link Link
State Department of Health: What to do if you have confirmed or suspected coronavirus disease Link
State Labor & Industries: Novel Coronavirus Outbreak (COVID-19) Resources Link
State: Paid family and medical leave program Link
State Employment Security Department: Layoff assistance Link