The Economic Development Council for Island County (EDC) is proud to announce a new partnership with the Washington State Department of Labor & Industries (L&I), through their Small Business Outreach Contracts program.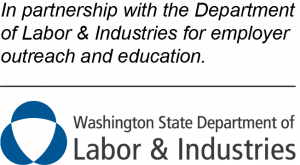 What does this partnership mean for our local businesses? In addition to the existing business support that the EDC provides, we will now serve as a local and accessible resource to increase the number of employers who understand L&I requirements and know how to connect to the many tools and resources available through L&I.  This work and education will ensure our local businesses are meeting all their L&I requirements and obligations.
How the EDC is here to help:  
Provide 1-on-1 consultations to help navigate and communicate with L&I
Provide up-to-date workplace posters required for L&I compliance
Provide relevant printed brochures and pamphlets on L&I requirements
Local trainings with information specific to our region's small businesses
Helpful and timely communications through social media and newsletters, and
A web page with a curated list of resources, targeted to our small business community's needs. (coming soon)
"We look forward to keeping our employers and employees safe and up-to-date with the latest resources and requirements of L&I." said Sharon Sappington, Executive Director, EDC.  "We are ready to work with you and your business to address any questions or concerns, ensuring you avoid costly fines."
Should you have any questions about the EDC, membership or L&I Resources contact the EDC office at 360-678-6889 or info@edcislandcounty.org.
L&I Permanent Changes to Outdoor Heat Exposure Rules
On June 27, 2023, the Department of Labor & Industries' (L&I) adopted rules to update the Outdoor Heat Exposures rules under WAC 296-62-095 and 296-307-097. These changes are effective on July 17, 2023, and address minimum requirements to prevent heat-related illness and reduce traumatic injuries for outdoor workers associated with heat exposure.
For additional information, links to FAQs, and more, visit L&I's Outdoor Heat Exposure Rule Page at www.Lni.wa.gov/HeatSmart.
OSHA
Most businesses are required to post their OSHA Log summary from February 1st to April 30th. 
This summary must be posted in each establishment where notices to employees are customarily posted, such as next to the required posters for your workplace.
Does that include your business?
Small employers and low-risk businesses may be exempt from these requirements if:
They have 10 or fewer employees at all times during the previous calendar year at all of their combined business locations.
The business is included on the industry exemption list in Table 1 under WAC 296-27-00105.
Note: An exemption does not apply if the Bureau of Labor Statistics (BLS), OSHA, or DOSH notifies you to comply.
Resources to help