Financial resources for economic development are limited and the need for inter-local collaboration, coordination among the various economic development agencies, and careful prioritization of proposed projects has become essential. Recognizing the efficiencies that result from a coordinated approach, the U.S. Economic Development Administration (EDA) and the State of Washington encourage local jurisdictions to work together to create a regional economic development strategy and programs.
A Comprehensive Economic Development Strategy (CEDS) is a long-term, consensus-driven, local planning document that intends to guide economic development throughout a region or county. The EDA manages the content guidelines and requirements for the CEDS process and document.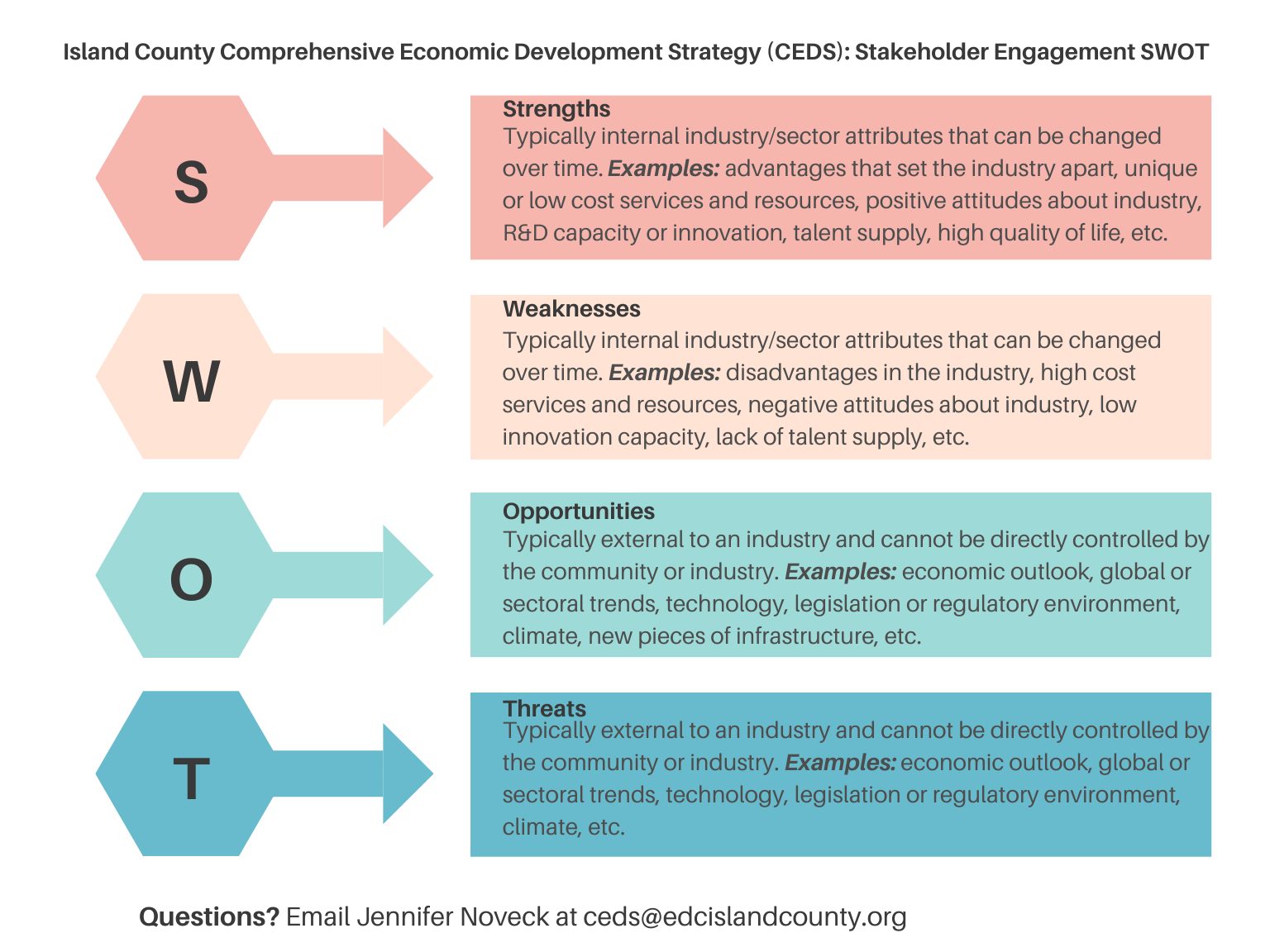 The development of the Island County CEDS will run for approximately 18 months from April 2023 – September 2024 and requires final approval by resolution by the Island County Board of Commissioners as well as the EDA.
The Economic Development Council for Island County and a CEDS External Review Committee will oversee this process. The project will be managed by Jennifer Noveck, Ph.D.
Check out our CEDS FAQs for more information.
Stakeholder Engagement
A critical part of the CEDS process is stakeholder engagement.
The first opportunity for public feedback and input is a short SWOT (strengths, weakness, opportunities, and threats) survey to gauge the priorities and challenges related to economic development among businesses and the community in Island County.
The survey can be found here and will be open from May 1 – July 30, 2023.
If you prefer to provide feedback in another format, you can also download and fill out this document and email it to ceds@edcislandcounty.org.
Additional Questions? Email Jennifer Noveck at ceds@edcislandcounty.org.
Generously funded by: